Welcome To Parker Pastures!
Hi! It's Cloe Parker, while I wish I were introducing myself and showing you around our ranch right now, this will have to do, and hopefully, we'll "meat" in person one day soon.
Do you want to know exactly where your meat comes from and reconnect with the land and your food source? 
Do you wish your fridge and freezer were always stocked with the highest quality meat that you could feel great about eating? 
If your answer is YES.
Then, you, my friend,  are in the right place!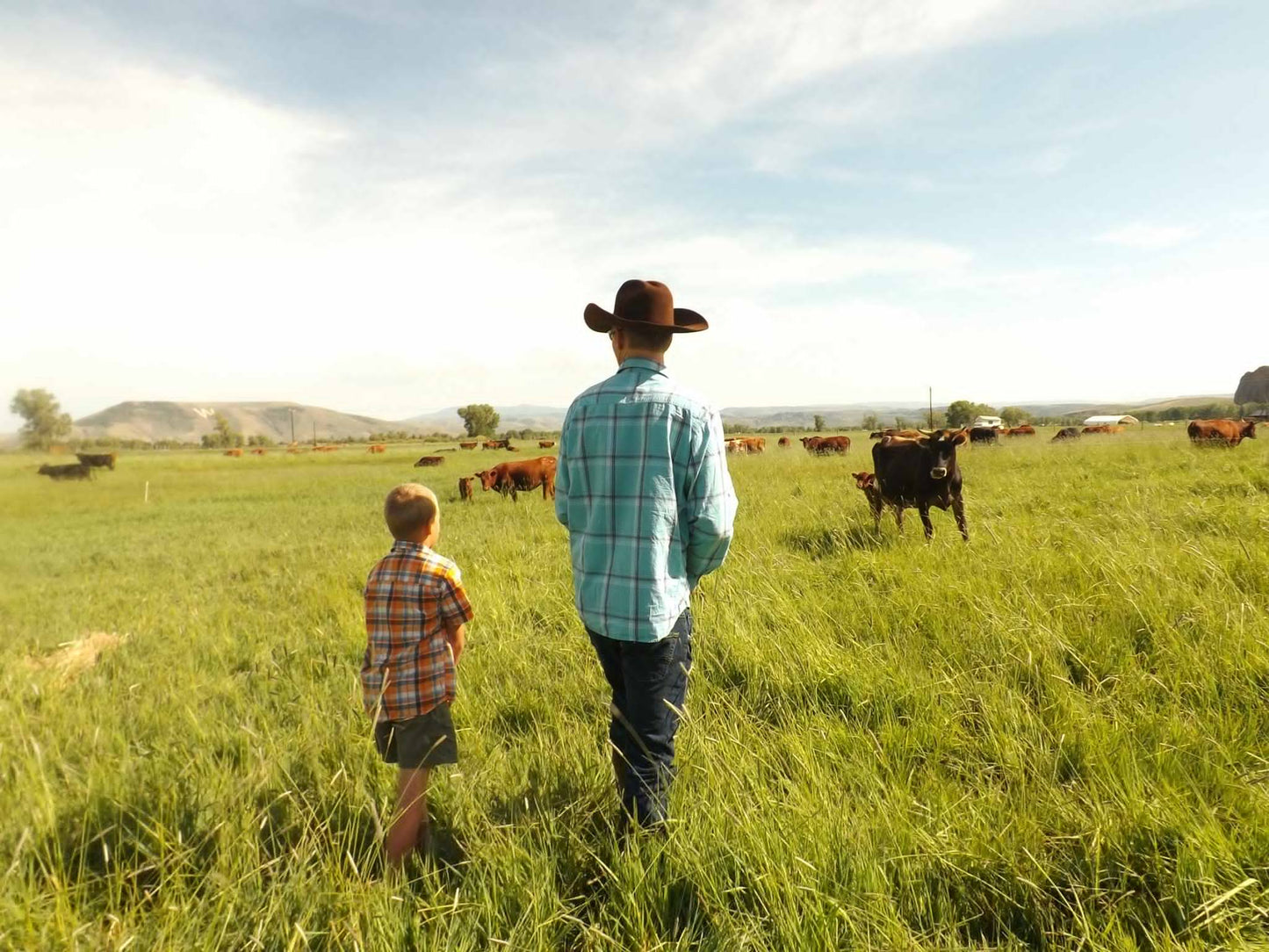 Our story began 18 years ago when my parents founded Parker Pastures with the simple goal of feeding my brothers and me the highest quality real food raised in a way that makes the earth healthy again. 
From the time I was a young girl, I knew that my calling was to produce nutrient-dense food while responsibly stewarding the land through regenerative management practices.

However, my journey hasn't been without its challenges. A few years ago, my world was turned upside down when my mom was diagnosed with cancer. At just 19 years old, I returned home to take over my family's meat company and help on our ranch.

And earlier this year, I took over Parker Pastures, in honor of my mom, for the greater glory of God, and to offer you beef that's free from deception and packed with health and flavor.
You deserve the BEST IN BEEF and that's exactly what my family and I provide!
We are excited and honored to be your ranchers and provide you with gourmet, nutrient-rich meat directly from our ranch!
Cloe and rest of the Parker family
P.S. At Parker Pastures, we work in co-existence with our animals and the land by regenerative ranching.
We ARE sequestering carbon, creating biodiversity, increasing organic matter, and providing healthy regenerative 100% Grass-Fed, and Grass-finished Beef, as well as Pasture-Raised Pork and Grass-fed Lamb to individuals and families across the nation!
Our animals are graze on lush pastures in the pristine mountains of Colorado and are never given antibiotics, hormones, or GMOs.
Frequently Asked Questions
Do we ship?
We ship nationwide via UPS (lower 48) every Tuesday, and the order deadline is Tuesday at 8am. 
Coloradans: Your order will arrive in Colorado (UPS Ground) by the end of the day Weds.  Shipping fee start at $39.
Out of State: Your order will arrive outside of Colorado (UPS 2nd Day Air) by the end of the day Thursday.   Shipping fees start at $69.
Our goal is for orders to arrive frozen, but sometimes products will arrive partially thawed. Don't panic, as long as the meat is still cool and under 40 F, it is ok to put it in the fridge or freezer.  Each order is carefully packed with dry ice - some of the dry ice may still be intact when your order arrives.  You are important to us - dry ice burns, so please do not touch it.
Our boxes are made of 100% recycled cardboard and the packing is made of recycled textiles that are biodegradable within 1 year. 
Can I pick up from the ranch?Yes! Order Deadline 8 am Tuesday.
Pick up: Thursdays, Parker Pastures in Gunnison.  

Self Serve 10-dark. 

Happy to Help Assistance 12 -1.

If you don't live in Gunnison but are in the area and want to pickup directly from the Ranch, make sure you use the shipping zip code 81230 so the system knows you are in Gunnison!

What kind of beef cattle do you have?
We have a heritage Red Devon ("gourmet beef on grass") cow/calf herd, and much of our beef comes from our herd. 

But the demand for Parker Pastures high mountain, clean, grass-fed, grass-finished beef has grown beyond our wildest dreams!   Our herd is not big enough to provide for everyone who wants to fill their freezers with top quality grass-fed beef they trust.  

So, we do source cattle from like minded (amazing) ranchers in our region.  All cattle are then finished (fattened) at Parker Pastures under our watchful care.   

An example of this is the Lonetree Ranch, where Cloe is spending the summer. We buy extra cattle from them to fatten and finish on Parker Pastures' lush mountain meadows.   Like Parker Pastures, Lonetree is a Audubon Certified ranch.  Their Black Angus cattle live an incredible life free of chemicals, hormones, antibiotics, and other junk.  They graze pristine, diverse, high mountain pastures and live a low-stress life under the loving care of their ranchers.  The Lonetree family uses intentional management based on the same principles and values that we use at Parker Pastures.    
What do your cows eat? 
Our cattle are 100% lifetime grazed, grass-fed, grass-finished, and pasture-raised.

We proudly raise our beef in the remote Gunnison Valley, a place unlike any other...a place of clean water from pristine mountains, high altitude unpolluted air, highly mineralized mountain soils, diverse grasses, and lots of sunshine. 
We have discovered that the unique and acclaimed flavor of our organic grass fed meats are a result of this place where they are raised and our unique growing conditions. 

Our fields are filled with diversity... grasses, flowers, willows, timothy, red clover, white clover, alfalfa, and more for the cattle to choose from resulting in nutrient rich beef. Our fields our irrigated with and our cattle drink from clean, clear snow-melt mountain streams. 

Similar to a fine wine, our organic grass fed beef is a reflection of the terroir of this beautiful mountain environment we call home.   And the unique expression of our terroir is magnified in the autumn.

Do you practice Holistic Management and Holistic Planned Grazing?
Yes! We have been practicing Holistic Management for over 20 years. We regularly attend conferences, workshops, and study Holistic Management, biodynamic ranching, organic ranching, holistic livestock health, soil health, etc. to keep up to date on the latest practices in our field.



Where is your ranch located?
Parker Pastures' Headquarters is on the Van Tuyl Ranch just minutes from Gunnison, CO in the magical high mountain Gunnison Valley.  There is an amazing public trail that circles through the ranch along the Gunnison River.   We also manage several other incredible mountain ranches in the area on which our herds graze.  Uniquely, we do not have any public land leases.

Do you give your cattle antibiotics?
We never use sub-therapeutic antibiotics. We do, on very rare and necessary occasions use antibiotics as the most humane action to treat a sick calf, but these animals are removed from the meat program and will NEVER end up on your plate.
Do you give your cattle growth hormones?
Never.
Do you use chemical fertilizers?
Never.
Do you use pesticides, insecticides, fungicides, etc?
Never.
Are your animals treated humanely?
Absolutely. Our animals are out on spacious, clean, organic, fresh pastures their entire lives. They have space and means to express their particular "animalness." They remain under our care their entire extended lives, spending their lives with their herd, eating a diet of fresh greens, exercising at will, getting plenty of fresh air and sunshine, and living a low-stress and natural life.  Plus, everyone on our ranches has been trained in low stress livestock handling.

Is your beef certified organic?
We like to say we are Beyond Organic!  We are not currently certified organic, because we decided that the cost of the certification and the green washing happening in the organic sector wasn't serving us or our customers. That said, we have always, and always will manage our pastures and livestock in a way that is in line with organic standards, and in fact go WAY beyond organic standards.
Do you have any other certifications?
Parker Pastures is proud to partner with the National Audubon Society through their Conservation Ranching Program! Parker Pastures officially became an Audubon-Certified Ranch in 2020 (although we've always been in practice!).  
Where do you get our cattle processed? 
We will take your beef to the awesome, small, super clean, family owned USDA processor (Kinikin Processing in Montrose, CO) that we've worked with for years.  This is just about an hour from Gunnison.  Your beef will dry age for 14-21 days before our expert butchers cut, vacuum seal, and flash freeze your beef in their brand new facility.  


How long is the frozen beef good for? 
With the heavy duty packaging and vacuum seal our butcher uses, our beef will last indefinitely, although USDA recommendations are to use it within 1 year.  Occasionally a seal will break after you get your beef, so use those packages first.
Is your beef Dry Aged?
Yes!  For two to three weeks it hangs in the carcass before being made into cuts.  Why?  This intensifies the good flavor and increases tenderness. 

What grade is the beef?
Our beef is not graded.  Most of it would grade choice with some select if it were graded.  

How much freezer space do I need to figure before buying? 
You can plan on about 1 cubic foot per 30 lbs of beef.  This is about 3 cubic feet for a Quarter, 6 for a Half, and 12 for a Whole CowShare


Do you have lamb?
YES! Be sure to get on our waiting list for lamb here. 


A Cow is big investment and could be a big risk.  Do I have any guarantee to protect me?
Yes!  Your beef has our Rancher Guarantee. If your meat arrives thawed or there was a processing mistake due to our error, or if the packaging was compromised during transit, we've got you covered.
Here's what you need to do: Contact our customer service team within 24 hours of receiving your order.

Provide a clear picture of the issue to assist us in understanding the situation.
Based on your preference, we will offer one of the following options:

A full refund for the affected portion of your order.
Store credit that you can apply towards a future purchase.
A free replacement product.
Your choice!

Why is our beef the price it is? 
Our beef is the best of the best. Not just the best tasting, it is also raised in the way best for the earth and for the health of you and your family. When you purchase from Parker Pastures you are filling your freezer with Colorado's Finest Grass-finished Beef, fueling your body with flavorful and nutritious protein, partnering with us in creating more biodiversity, sequestering carbon, and creating a better world. That is priceless!

Why is grass fed beef higher priced than generic beef?
The cost of processing is the primary reason.  Giant multi-national packers have an economy of scale that is pennies on the dollar compared to small artisan butcher plants like Kinikin Processing.  With the recent drama in the meat packing industry, we are even more thankful for our butchers, and we are willing to pay what they need to keep doing the valuable work they do for the local food movement.  That said, we do choose to have our CowShares butchered under 

Can I choose my cuts?
Yes! On the menu above, click Individual Cuts Selection to order by the cut. 
If you order a Whole or Half CowShare you can have it cut to your preference!  When you click "Add to Cart" a form will pop up that will guide you through this process.   

If you order a Quarter CowShare, it will be cut with a Butcher's Standard Cut because we offer a split quarter (pieces from both front and hind quarters).  Our long time Quarter CowShare customers love our butcher's template.  They have perfected this crowd pleaser and we guarantee it works for all beef lovers.
The Best In Beef
We've been perfecting the art of finishing cattle off grass for over 20 years using regenerative agriculture practices in the pristine mountains of Colorado! The result is the most flavorful, nutrient-dense, juicy, and tender beef you've ever had, which is also healing to the planet!
I was skeptical to switch to ordering directly from a ranch, but with prices going up and quality dropping our family needed to make a change. I was quickly overwhelmed in my search for high quality, healthy beef. I stumbled upon Parker Pastures while narrowing my search for a sustainable ranch. Knowing that their cows are ethically raised, they are working toward organic rating, and their land is Audobon rated, made them a top contestant. We pulled the trigger on their monthly rancher pack, as well as a few individual cuts to sample.

We have peace of mind that we are eating high quality, healthy, and safe beef, and have more control of our grocery budget and our nutrition. Thank you Parker Pastures!
Rose Combs
I purchased one # of ground beef to test the quality before I was willing to purchase any larger orders, have to say I was pleasantly surprise at the moistness & taste of this ground beef, tasted like a good steak .I grilled it on the BBQ according to the cooking suggestions suggested by PP's.Thanks again.
Stephen S. 
I have had the honor of not only feeding this delicious food to my family, but to actively work with the Parker Family as they produce this amazing meat and regenerate our precious lands. I am a cook and Parker burger meat (and the rest) is the best, best I've ever used, eaten, touched. I am a lover of the land and the Parkers' commitment and action over the decades to use their animals and knowledge to regenerate our soils, grasses and lands is simply inspiring. I think we'll have burgers tonight. :)
Suzanne E.
By the cow (hands down the Best way to buy beef)